Cafe hopping: CRAFT Bakery and Cafe
10:55
Cafehopping on a Monday wasn't a really smart move, for most good cafes are closed on Mondays.
With a limited choice of cafes, we finally decided on Craft Bakery and Cafe, conveniently tucked away in small side street in Holland Village, a 3-minute walk away from the MRT. (Not really surprising, since Holland V is where all cool cafes, night clubs and fancy restaurants are clustered at.)
A relatively new establishment a little less than a year-old, it has already garnered quite a following. My friends and I were lucky enough to beat the lunch crowd and get a sweet deal on a Monday afternoon.
There was a 2 for $20 lunch promotion for all their pastas and sandwiches on the menu!
Craft Bakery and Cafe is rather small and popular among the office workers, so it would be wise to head there before their lunch hour at around 1.30pm or you might have to wait for a table.
The menu boasts a wide range of food and the prices are all rather reasonable.
My order was the first to arrive.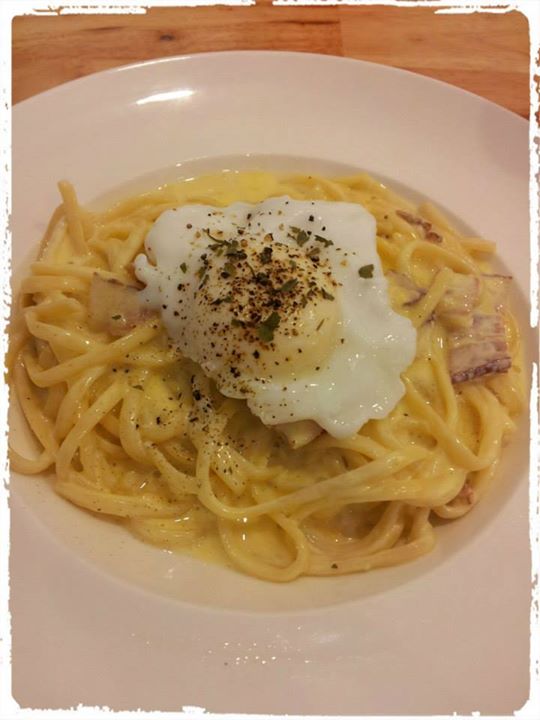 Bacon Carbonara – Linguine with crispy bacon, parmesan cheese and a touch of cream. Topped with a poached egg.
The bacon was salty and smokey, but not really crispy. It might be a little tough to chew at times. Still, it was better than Kith Cafe's (which seemed like excessive salt was spilled all over the bacon). The linguine had the al dente, chewy, texture and the carbonara sauce was creamy/cheesy enough. I could even taste the bits of garlic and onion in it! Cheese lovers – look out for this dish! As for the poached egg, the yolk was sufficiently runny but it would be a tad tasteless (it didn't seem like they added salt and pepper to it), especially the areas that weren't sprinkled with the Italian herbs. Due to the uneven sprinkling, some other parts of the egg would have an overwhelmingly strong taste of herbs (which aren't that pleasant in larger clumpy amounts, trust me.) Overall, the pasta was alright, above average, I'd say, though not exceptionally amazing.
Next up, The Craft. It was one of their recommended dishes and it seemed like a waffle-lover's dream. Imagine! Waffle sandwich, the best of both worlds!
The craft – maple-candied bacon and green apple slaw on waffle grids
Jes says: The waffle was slightly tasteless but remained very airy and crisp throughout. That made it a good vehicle for the other components, though maybe too plain by itself. The combination of bacon, the apple slaw and the waffle was quite pleasant; it turned out to be slightly salty, sweet and crunchy. It was rather messy to eat though, for it was impossible to eat the top layer of the sandwich together with the rest, and the waffle had the tendency to crumble when cut into. The apple didn't really come through in the coleslaw which was slightly disappointing, but it still tastes quite nice for coleslaw. I'm not fond of mustard, so I didn't like it in the sandwich but at least it wasn't too strong, so I still managed to enjoy it. More bacon would probably have helped, for $11.50, I expected more than the 2 slices of bacon given. The bacon was moist and not too salty and I really liked it. It was the best part of the sandwich!
Claudia and Stef both ordered The "Very Very Thick" Toast.
The "Very Very Thick" Toast – brioche toast with sauteed mushrooms and poached egg with hollandaise sauce
Claudia says: The thich toast was really thick, which made it filling enough though it seemed little. It was toasted really well- crispy edges and soft centre, making it super easy to cut and eat. Also, it wasn't too buttery, just enough to enjoy the taste of buttered toast. More sauteed mushrooms could be given, but it still tasted great overall. I'm not a big fan of egg yolks so I don't try them often and can't compare them with other poached eggs but the egg felt a bit tasteless. I enjoyed the toast most, so it's quite worthwhile for $9.20.
Stefanie says: More hollandaise sauce could be added, but just as long as it doesn't taste like Brussel sprouts, I'm satisfied.
Chen Ting and Jia Qi ordered the Eggs Benedict and Waffle with mixed berries compote.
Eggs Benedict – Grilled English muffins with honey-baked ham and poached eggs drizzled with hollandaise sauce
Chen Ting says: The Eggs Benedict was finely seasoned with the eggs cooked to a nice texture. It was a fine combination!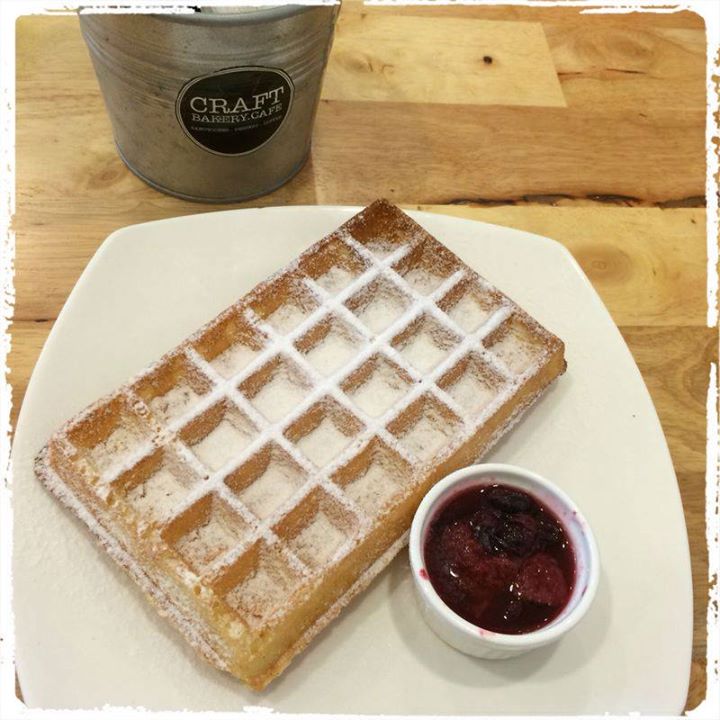 Waffle with mixed berries compote – Toasted grid waffle served with a compote of strawberries and blueberries
Chen Ting says: The waffle was warm and crispy. It was delicious when topped with the berries compote and sugar. However, it may be a tad tough when cooled.
Dessert: Hazelnut molten cake
Molten Cake – Warm chocolate cake served with a scoop of vanilla ice cream
Claudia says: The cake is too expensive ($9.60! It costs more than my main course!) It was a big disappointment because nothing flowed out when we cut it, which I feel is what everyone looks forward to when cutting a lava cake. The cake's a little small but the big scoop of ice-cream that came with it redeemed the shortcomings of the cake.
Chen Ting says: It was the MOST. DELICIOUS. THING. EVER. Moist chocolate cake with piping hot filling, it's a must-try at the cafe.
Jia Qi's coffee + Latte art!
Jia Qi said: it was really good but I think I'm more interested in the picture-worthiness of the latte art.
The price was reasonable for an average of $13 per person, but honestly it was really hard to find the tip box. It was noisy in the cafe too, so it wouldn't be conducive for students or good for a nice chat with friends. We even had to raise our voices to made ourselves heard over the din. The staff made a mistake for our bill (they made two of our mains FOC, but being the honest people that we were, we pointed it out to them.)
Our final verdict: We would go back there again just because their food is reasonably priced and taste pretty decent.
Final group photo with coordinated outfits! =)